Super Dave Osborne uses our jump ramps for big stunt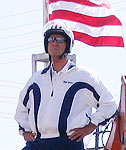 World Famous stunt legend Super Dave Osborne can use any stunt ramp he pleases - his choice is the Leavittation jump ramp system shown in the picture. The ramps worked great but the stunt went terribly wrong for Super Dave!
The tow truck pulling his specially built jump ski/seat was left in reverse and it ran over Super Dave before he could launch himself to a new world ski/seat record. Better luck next stunt, Super!
Arnold Swartzenegger and Jackie Chan anti piracy spot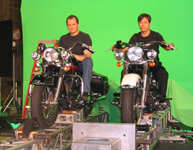 In this spot: The Govenator and Jackie Chan ride bungee tilt rig Harleys built by Branum entertainment. Lane Leavitt coordinates.
For Lane, it was just like old times being with Arnold and his stunt-double Deiter. To say the least, Arnold had a fantastic time working in front of Camera again. Jackie was also having a great time, these two work really well together.
Will we see this duo in another movie together someday? Let's hope so!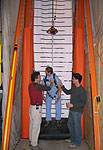 Fall testing at the Miller Fall Protection Test Facility is one of the interesting spots for the new National Geographic TV series Crash Test Human . Lane had the opportunity to help pull together the human test drop on Miller's 30 foot fall test tower.
This high tech facility is specially designed to test harnesses and fall protection systems with computer readouts. The testing and technical data is state of the art and covers a vast range of technical development for fall protection information and innovation.
Insta-Drift/ VitaminWater rolling stunt car fleet
We now have a fleet of two driftcars, one is this 1989 Nissan 240sx and the Debbie Evans.com 1991 model Nissan 240sx fastback. Our goal is to create rolling platforms to test new ideas and stunt driving techniques.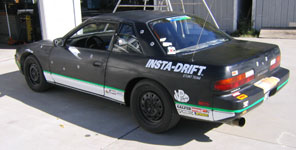 Branum Enterprises and Leavittation teamed up again to create another interesting hybrid project. Two 6 foot stroke nitrogen ractches propel a 300 pound box off a loading dock and into a Ford truck. Twin I beam travelers with over 12 feet of running room accelerate a huge box 30 plus feet out a loading dock door.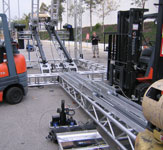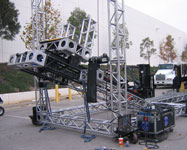 This is Debbie's new toy, the Vitamin Water/Insta-Drift stunt team, fire engine red Nissan 240sx Drift car. Debbie is using this new training tool to prepare for Fast and Furious 3 where she is having a chance to work with the very best drift drivers in the nation.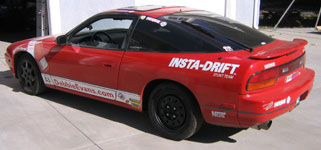 Debbie Wins 4th World Stunt Award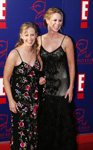 Here's Debbie and her sister Donna on the Red Carpet at Red Bull's Taurus World Stunt Awards, hosted by "The Rock." Debbie won for her work in Taxi, where she drove the trick BMW. Donna was also nominated for her work in The Punisher.
Daniel Leavitt featured in ATV Action, August 05 issue
Daniel and two of his motorcycle buddies, Christian Thordison and Ryan Sanderval had the pleasure of taking part in ATV Action Magazine's 50cc Quad Shootout. The boys jumped, raced, and slid the three little quads for photographer Don Williams who managed to capture some great action stills of this trio.


We're very excited about the feature film version of the popular book "Way of the Peaceful Warrior." We believe this movie has the potential of being the greatest gymnastics movie of all time. Our crew had the opportunity to work with US Olympic Team members and create some amazing wire rigs to simulate our actors on gymnastics equipment doing routines for close-ups. We also had the opportunity to stage an amazing and creative motorcycle crash that is the pivotal event of the story.
Stunt Coordinator Mary Albee, Donna Evans, and Lane Leavitt teamed up to create a killer car-hit using our articulated puppeteered dummy. Using a cleaver overlap technique the actress was seamlessly edited from walking to the dummy hit and back to the stunt-double hitting the ground, creating a shockingly real-looking vehicular homicide.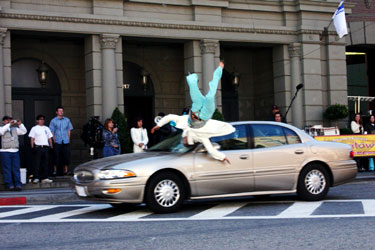 Our DOT style crash test dummies used on new Monster.com commercial spot
We have recently added DOT style crash test dummies to our Stunt Dummy inventory. Over the years our stunt dummies have done every conceivable type of stunt but we have never been able to fill the niche of the Department of Transportation Crash Test Dummies until now.

Three of our new DOT style crash test dummies are featured in a new monster.com commercial spot where they are featured in a test facility scene.

Our next crash dummies in the pipeline are a child DOT crash test dummy and a lady DOT crash test dummy. Availability on these new models will be very soon.
Debbie Evans appears at Disney World's new Extreme Stunts Show "Lights, Motors, Action!"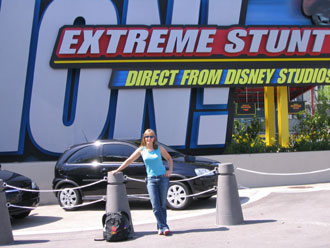 Disney's management invited Debbie to give a motivational talk to the stunt performers of "Lights, Motors, Action!" a new extreme stunts show imported from Euro-Disney. This gave Debbie and her family behind the scenes sneak peak of the new show.
"Lights, Motors, Action" features the technology developed with the help of Rémy Julienne and his world famous automotive and motorcycle stunt team. The show features some very unique and highly modified Opel automobiles and Gas Gas motorcycles.
Debbie's seminar included her demo reel, a short presentation, and an hour long question and answer session with Disney's stunt crew.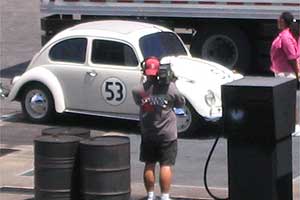 The stunt show also includes Herbie the Love Bug, and Debbie was introduced to the large pre-show audience in a fun cameo as the stunt-driver of Herbie Fully Loaded.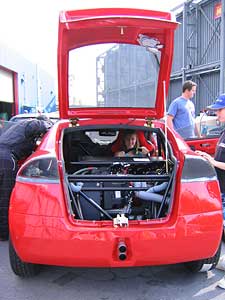 Ford Commercials with Phil Mickelson and Chuck Norris
Golf champion Phil Mickelson, Tae Kwon Do legend/action star Chuck Norris, Hong Kong's hottest new action choreographer Ridley Tsui, Branam Enterprises and Amercian stunt coordinator Lane Leavitt teamed up for this high action Ford spot featuring Phil Mickelson fighting Chuck Norris and traveling in outer-space between Golf games.
Branam Enterprises in cooperation with Lane Leavitt designed and built four state of the art descender/hoist systems for the show Amazing Race filmed in Peru and Norway.

Lane traveled to Peru with the Branam team where they setup four 1,000 foot long slide-for-life's for the contestants to traverse a huge valley twice over a raging river.
Computerized Ratchet Firing System Featured on Tech TV and Inside Stunts Magazine
Debbie Cast to Double Lead on Herbie
| | |
| --- | --- |
| Debbie Evans is currently doubling Lindsay Lohan on Disney's Herbie Fully Loaded, the remake of the 1960s Disney classic Herbie the Love Bug. | |
New Wireless Parallelogram Flying System
| | |
| --- | --- |
| Now online, our new Parallelogram Wireless Flying System idea for greenscreen work or floating scenes that can be done without wires and harnesses. | |
A Sneak Peek at our New State of the Art Descender/Hoist Combo
Debbie Evans Wins World Stunt Award
| | |
| --- | --- |
| Debbie Evans won a Taurus for Best Stunt by a Stuntwoman at the 2004 World Stunt Awards for her work doubling Carrie-Ann Moss in the Matrix Reloaded. Read more at DebbieEvans.com. | |
Lane Wins the US AHRMA Vintage National Championship
| | |
| --- | --- |
| Lane Leavitt scored the Vintage National Trials Championship at Donner, CA riding his vintage 1976 Bultaco Sherpa T. | |
Debbie and Team USA Finish 8th at World Championship
Debbie Evans Leavitt represented Team USA September 25th in Cordova Spain at the 2004 Trial des Nations (Team World Championships) as part of a whirlwind trip to Europe in-between shooting 2nd Unit for the Disney Remake of Herbie, Fully Loaded.

The winning nation was France followed closely by Japan with hosting Spain 3rd. Team USA was sandwiched between last year's winner Germany and Team Italy.


Daniel Leavitt Wins 10 year old National Trials Championship

Lane and Debbie's son Daniel competed in the AMA National Youth Trials Championship held annually in Tennessee.

Daniel finished first in the extremely competitive 10 year old class. Finishing a very consistent week of competition with two second's and a first overall, he secured his first National title, making Daniel the new 10 year old National Motorcycle Trials Champion.